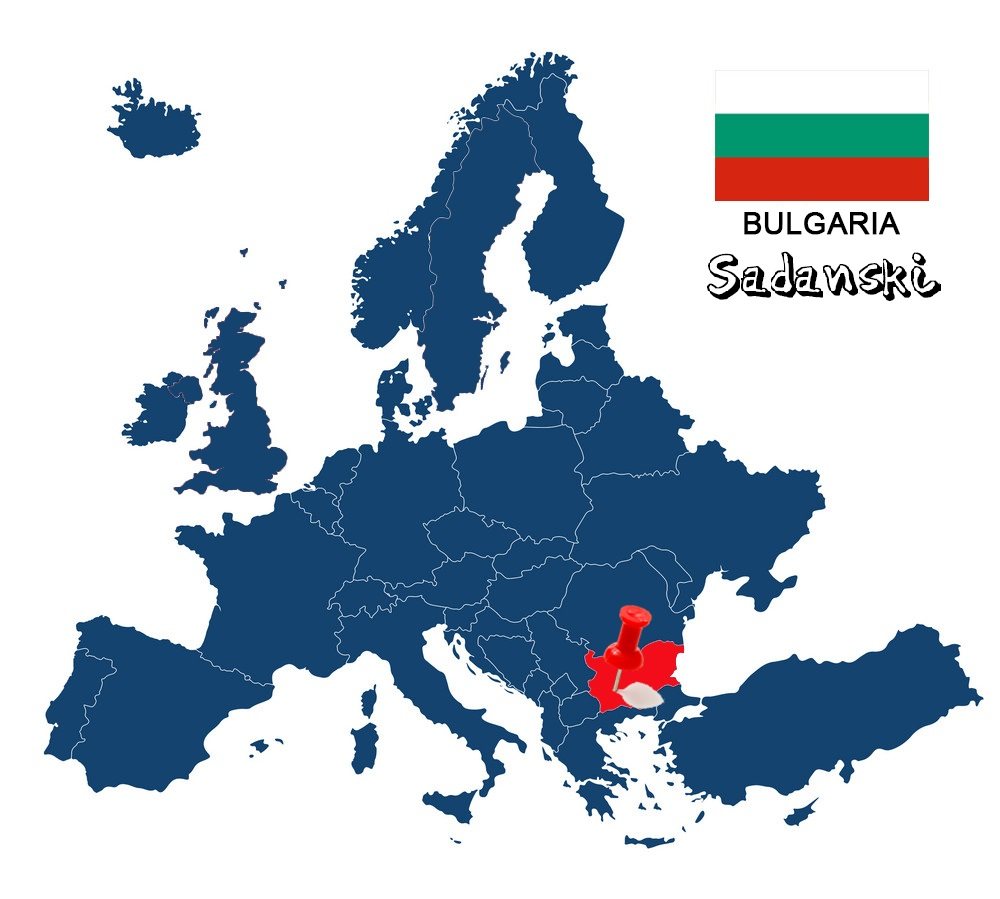 Sandanski is one of the most developing cities in Bulgaria. Relying mainly on Greek tourism, with shopping and financial spa services, it has managed to change its face in recent decades. From poverty and disrepute it has been transformed into a modern European town. But beyond that, Sandanski has other things to offer a traveler. Parks and green spaces, historic buildings, sidewalks and interesting museums are waiting for you to discover.
A few words about the city
Sandanski is a city in southwestern Bulgaria, just 20 km from the border with Greece. It is interesting that it is about 160km from Sofia, which is the same as from Thessaloniki! It was named after the homonymous hero of the liberation of Bulgaria, Jane Sandanski and is located in a valley at the foot of the Pirin Mountains, on the banks of the river Sandanska Bystrica. The population of the city amounts to 26,959 inhabitants, among them many Greeks, who maintain their own businesses in the area. There are several hot springs in the urban area, which makes many tourists from Bulgaria and the surrounding countries, including Greece, visit it for holidays and relaxation. So I chose for you, what I think is worth paying attention to someone who is visiting the city for the first time.
Trotoar Sandanski
I think that the main pedestrian street of Sandanski, Makedoniya Street (ul. Makedoniya) as it is called is the most interesting thing the city has to offer. Under the shade of tall trees planted along it, the heart of the city beats. To the right and left you will find some of the most important administrative buildings of the town (City Hall, Police, etc.), historic buildings, Roman finds, and numerous shops of all kinds, restaurants, cafes and hotels. Walking to the end, you will find yourself in the beautiful park of Sandanski, which I will mention immediately below.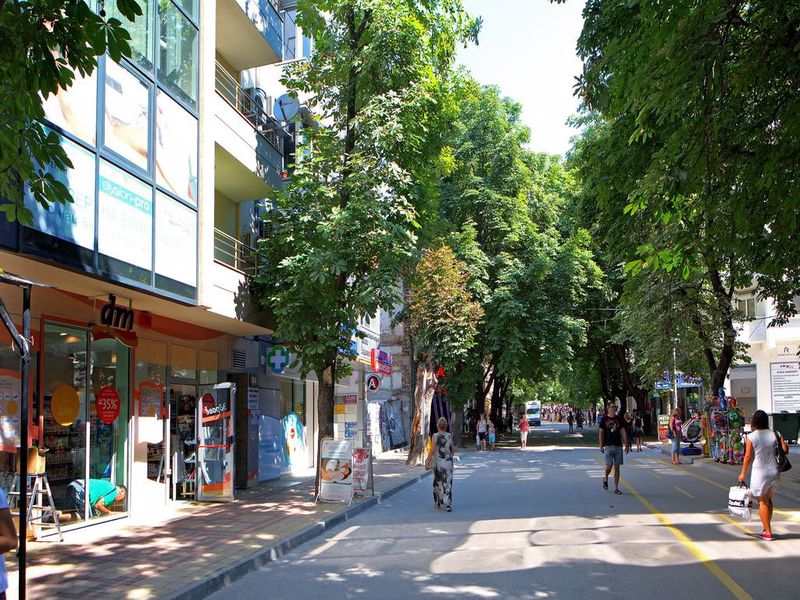 Gradski Park
And if the heart of Sandanski is its main pedestrian street, then the lungs are definitely its municipal park (Gradski park). It is an oasis of greenery right in the center of the city, on the banks of the river Sandanska Bistrica. This park is known as a "sanatorium for respiratory diseases", while it is said that there are over 160 species of plants! Inside the huge municipal park, you will also find dozens of scattered statues, fountains, playgrounds and an artificial lake, full of ducks and swans.
Arkheologicheski muzeĭ
The Archaeological Museum (Arkheologicheski muzeĭ) of Sandanski is located on the main pedestrian street and is the most important art space of the city. It was founded in 1936 on the basis of a rich collection of local artifacts related to antiquity, but it was officially opened in 1970. The museum exhibits various representative collections of marble sculpture, tombstones with Greek inscriptions and beautiful mosaics. The entrance costs one leva, that is, about fifty cents of the euro.
Episkopska bazilika
Next to the Archaeological Museum, we find the Basilica of the Archbishop (Episkopska bazilika). It is a typical classical Greek basilica with a short axis divided into three aisles, which dates to the middle of the 4th century AD. A trademark of the Basilica is the magnificent mosaic floor in the style of "opus tesalatum" and "opus sektile", which was found in excellent condition. The basilica complex also includes an atrium, a well-preserved pulpit, a marble altar with scenes from the Gospel, the largest baptistery of the time found in Bulgaria and Roman-Corinthian-style columns. And here the entrance costs one leva, which is about fifty cents of the euro.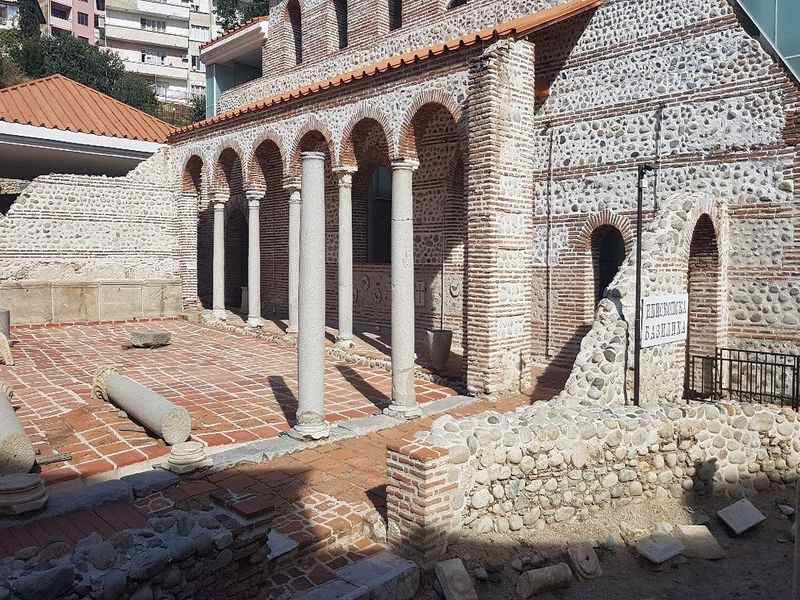 Natsionalen Park Pirin
About forty five minutes away from the city of Sandanski is the Pirin National Park (Natsionalen Park Pirin). An area of unique beauty, full of lakes, waterfalls and caves. This particular park is 106 sq.m., at an altitude of 1.008 to 2.914 meters, while it was originally created in 1962, much smaller than today, in order to preserve the forests of the mountain. Noteworthy is the fact that it has been designated as a "World Heritage Site" by UNESCO. The walk in the park can be likened to a dip in the diversity of nature, since more than 1300 species have found refuge in Pirin, which corresponds to more than 30% of all Bulgarian species. Finally, during the summer months various events are organized there, including hiking, climbing, cycling and other kind of exercise, aiming to bring the visitor closer to nature.
Popinolashki Vodopad
Just 18 kilometers from Sandanski, at the foot of Mount Pirin we meet Popinolashki waterfall (Popinolashki Vodopad). Without doubt it is the natural landmark of Popina laka province, as well as the whole region. It is located at an altitude of 1,230 meters in the stream of the Bashliitsa River, and its height is estimated at 12 meters! The interesting thing about this waterfall is that it never runs out of water, so if you are there in the summer months, you will have the opportunity to swim in its frozen waters.
Melniški piramidi
Also about 20 kilometers from the city, but this time southeast, there are the Earth Pyramids of Melnik (Melniški piramidi) or as I call them "the Meteora of Bulgaria". These are natural rocks, known as hoodoos, located at the foot of the Pirin Mountain Range and have an area of 17 square kilometers. Reaching a height of up to 100 meters, these sandstone pyramids have a shape, which we would say resembles giant mushrooms, ancient towers or obelisks. They were formed mainly due to erosion from rainfall and rock decay, and are home to many animals and plants in the area. The Pyramids of Melnik are a geological phenomenon of global importance and were declared a natural landmark in 1960.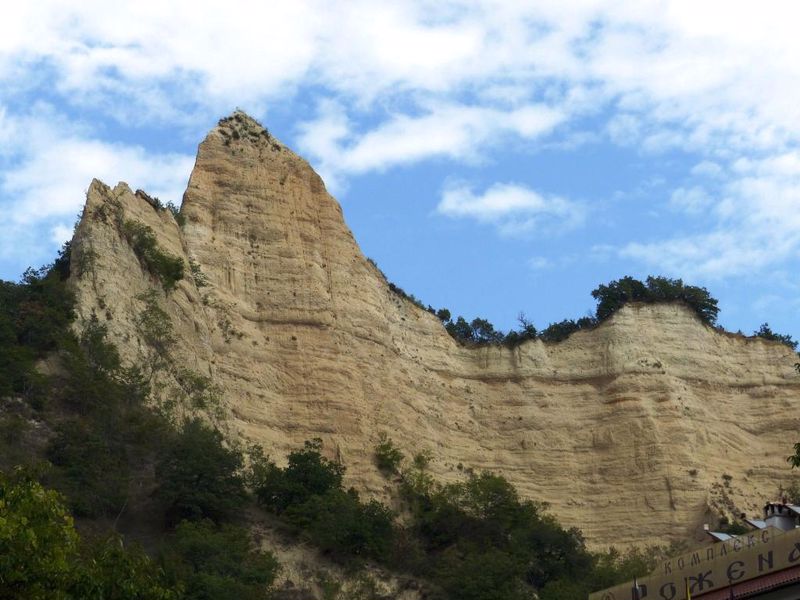 How to go
There is obviously no airport in Sandanski, so you can only reach it by bus or your own vehicle. If you choose the bus from Thessaloniki, you will be in the city in about 2.5 hours, while with your car, in something less than 2 hours. You can also fly to Sofia and from there take a local bus, which I do not recommend since the distance is almost the same.
Where to stay
The truth is that in Sandanski most visitors do not stay, they just pass and continue to some other place. However, as a thermal destination, it has many hotels, which also have such services. If you wish to combine your stay in the city with relaxation, then a good option is Interhotel Sandanski. It is a four-star hotel, in the most central part of the city, with a swimming pool, spa and thermal baths In addition, it offers all modern comforts and have a very good value for money.
How to move
Sandanski is a small town whose heart beats on its main pedestrian street and around it. The distances are very small, so you probably will not need a means of transport, since you can turn it on foot. However, in the city there are buses, which stop in several parts of the city, ending in nearby cities such as Petrich. If you want to explore the surrounding areas, renting a car is a good idea, since both the vehicle itself and gasoline are highly economical. Finally, taxis are relatively economical, but most drivers do not use taximeters so it would be good to ask before the price.
What to eat
Bulgarian and especially local cuisine is really special and enjoyable. The most typical dish of the area is "Koutse", a pork knuckle which is served with other varieties of meat on a wooden board. Accompany it with their high quality red wine. It is also worth trying the local sausage (Siujuk) and the appetizing salads "Kopone" and "Lutenitsa", as well as the appetizing bread "Palenta". However, being so close to the border with Greece, in Sandanski you will find many "Greek" restaurants or even taverns that serve Greek dishes. You will also find frappe and espresso, something rare for cities outside Greece. For food I would suggest choosing something from the main sidewalk, where everything is cleaner and neater.
Useful information


In Sandanski we travel with a passport or a new type of Police ID, where the details are indicated in Latin characters.
In Sandanski the language used is, of course, Bulgarian. But the majority, if not all, speaks English, so ask for clarification in English.
The currency of the country is Leva, but most stores also accept euros.
Sandanski has the same time as Greece.
The Greek Embassy in Bulgaria is located in Sofia and more specifically at 33 Street, San Stefano Str. and her phone is + 3592 8433085.
The best time to visit the city is either winter, to take advantage of the baths or spring when everything is in bloom.

Recommended excursions → Sofia, Blagoevgrad, Bansko, Melnik

If this article seemed interesting or contributed to your quality information, then you can like my facebook page: o_thessalonikios or follow me on instagram!
Mouzakidis Pantelis